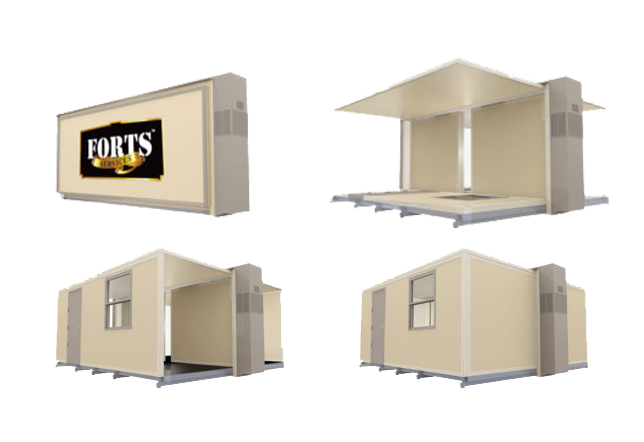 The FORTS System was conceptualized in 2008 in the midst of the housing crisis. Our founders were heavily focused on the manufacturing of insulated aluminum panels for "Sunrooms" at the time the housing market collapsed. Needing to pivot and find a new use for their aluminum panels, the FORT was born. 
FORTS stands for Fold Out Rigid Temporary Solution. Our team worked vigorously to create a product that could solve a very obvious temporary space issue in a multitude of markets. Our longstanding commitment to research and development allows us to continuously find new and better technologies to advance the industry as a whole.
FORTS Services is the exclusive rental provider of FORTS. Our team has delivered and rapidly installed FORTS for any need, from disaster relief to the highest level of sporting and entertainment events. Throughout the years we have not only grown in size/capacity but functionality as well. Working with all different types of clients in every market has provided us with the know-how and perspective to fulfill any project customization. We have added value to our customers and end-users in an infinite number of ways.
 FORTS Services has evolved over the years in terms of our capabilities. We have created specialized, custom walls, doors and windows to satisfy any possible need. From needing a rapid deployment of standard units for disaster relief to the most comfortable, luxurious and secure modular structure for any of your event needs, FORTS Services has the solution for you!
Save money and time with our in & out service catered to your unique needs.